The supplier shall refer to as Pumphouse Party Hire, the hirer shall refer to as the hirer.
The hirer enters into a contract and agrees and accepts the terms and conditions from the date they make a booking with the supplier.
A 50% deposit is required at the time of booking. This can be made by EFT, Visa, Mastercard or Paypal which incurs a 3% surcharge.
Cancelled bookings 48 hours prior to the event incur a 50% cancellation fee. Cancellations within a 48 hour period incur a 100% cancellation fee.
A $100 bond may be required for photo booth props.
Hire is for one day unless otherwise agreed on. Inability for the driver to access the equipment for pickup will incur a further daily charge for any days beyond the agreed period.
The hirer accepts full responsibility for the equipment while in their possession. The hirer is liable for any loss or damage while the equipment is in their possession.
The hirer is responsible to have someone available over the age of 18 years to accept delivery within the agreed timeframe. If there is no access an additional delivery fee may be required.
The hirer shall arrange to have a suitable solid table at the time of delivery to support 85Kg for equipment, note trestle tables are not acceptable. A direct power source is required and not connected to a power board. Note a single extension cord is acceptable. The hirer shall ensure that the area where the Juke box and/ or photo booth is to be connected is flat and clear of glass doors. A direct power source is required and not connected to a power board.
Once set up by the supplier, no equipment may be moved by the hirer without prior consent.
If any machine malfunctions due to user error a $100 callout fee will apply.
The hirer assumes proper knowledge in the operation and handling of the equipment and follows OH&S policies and does not hold Supplier responsible for any injury caused to themselves or others whilst moving or setting up any equipment.
Pumphouse Party Hire offers a 100% money back guarantee, this is at the discretion of the Pumphouse Party Hire management.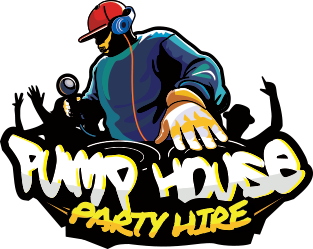 Pumphouse Hire New Agreement